Front-end Loader Plans
Turn an ordinary tractor into a portable loader
A SOLID PLAN and some ingenuity can save you thousands of dollars, simplify long-term maintenance, and transform a "dated" piece of equipment into a go-to solution for landscaping and maintenance done on your property. P.F. Engineering's Front-end Loader Build Plans have enabled hundreds of customers to upgrade their ordinary tractors.
Front-end Loader Build Plans demystify the construction of a loader attachment for your tractor. They break down the project into doable steps that can be carried out by you or someone you employ. Equipped with our experience and detailed information, you control your project's budget and schedule. And, you know what maintenance and repairs will cost in the years to come.
P.F. Engineering's founder, Paul, still uses the original loader attachment that he built more than 20 years ago. The loader originally girded a 1974 Cub Cadet 149, which was a large-frame garden tractor that weighed 750 pounds. Eventually, he swapped tractors, but kept the loader.
Front-end Loader Build Plans include:
Complete build instructions
Schematics for hydraulics
3D line-drawings
A materials list for all steel, hydraulics and hardware
A list of online suppliers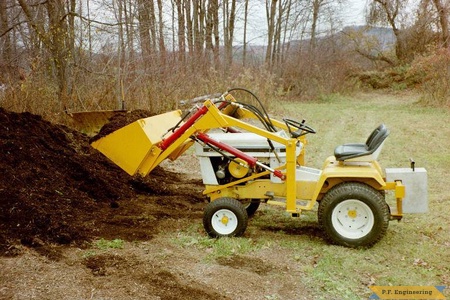 Paul's loader now outfits a 1986 Ford 1110 compact tractor, which is a 4-wheel drive, diesel model that weighs 1,400 pounds.